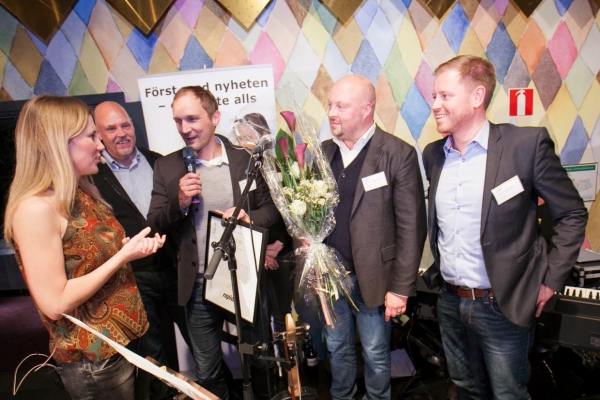 Malmö, January 23, 2014 – Vergic a leading software company providing world leading online customer engagement platform was named Company of the Year by Rapidus, the leading news organization in the Öresundsregion at the 13'th annual Rapidus "Company of the Year" celebration held in Malmö.
Rapidus who have scanned the market for interesting companies with global potential named Vergic as the Company of the Year. A jury consisting of board pro Charlotta Falvin, Strategy Adviser, Björn H. Lindebäck, Malmö University's Vice Rector Charlotte Ahlgren Moritz and Rapidus founder Jan Wifstrand Chief Editor Kristian Svensson have analyzed several companies who present strong financial growth, innovative approach, development focus and the ability to execute on strategy.
We are very proud of this award says Alexander Lunde, Fredrik Lunde and Johan Ringsberg, founders of Vergic. Getting this awards means that we are doing things right. We learned from the jury who have been communicating with customers, partners and other branch colleagues all have pointed to the uniqueness with our software, our company growth and customer success we are enjoying at the moment as reasons to why we should win. When hearing that from fellow entrepreneurs it feels great.