Vergic broadens product range to include small and mid-size businesses
Vergic has now made our award winning technology available for small and mid-size companies.Vergic Engage is now available in three Versions. Vergic Engage Chat, Vergic Engage Chat+ and Vergic Engage Enterprise. Several successful test cases have been run in the past year.
Compare versions
Since Vergic Engage product launch in 2010 Vergic's focus has been customers with large customer service organisations and/or strict requirements on data security. Through the award winning Engage Platform they have been able to boost sales conversion rates on-line as well as streamline service and support processes. No matter in what industry, our customers can draw advantage of functions such as real time segmentation, adaptive interaction rules, dynamic banners etc. In dialogue they can seamlessly switch between channels – chat, video, voip or telephone and support all customer interaction with advanced co-browsing and collaboration tools. Today market leaders in most industries, from retail to public sector, run Vergic Engage.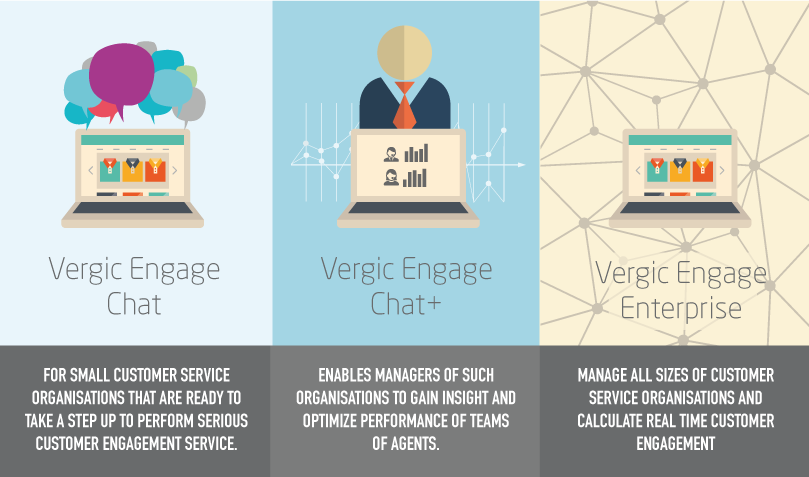 So what now?
The new Vergic Engage Editions, Vergic Engage Chat and Chat+ have now been made available and are aimed at small and mid-size organisations thus making large parts of the Engage Enterprise functionality available at a very attractive price point. With Vergic Engage Chat and Chat+ you can be up and running with your Engage solution almost immediately.
Vergic Engage Enterprise is Vergic's original Engage Platform, designed for organisations with high requirements on on-line engagement rules, often with a multi channel approach and often with high volumes of web visitors and customer interaction. However, it's not only the Chat and Chat+ that are new. The new Engage Enterprise Edition also comes packed with even more, newly released features than ever before.
All products contains Vergic patented and patent pending world leading technologies for customer real time communication and interaction combined with integrated co-browse and visual guidance toolset.
Why launching a small and mid-size product?
Customer service is the new competitive edge, often a key differentiator and the world is changing. The modern customer does not want to leave the web page, switch channel in order to make a phone call or send an e-mail to query for product or service information. This affects organisations of all types and sizes and puts the web in even more focus.
This switch in customer behaviour and customer expectations is one of the key drivers to why market leading organisations in most industries, from public sector to retail today are Vergic customers. In the Nordic countries the largest government institutions, the largest retailers, finance and insurance companies, utility companies and Telco companies are among our customers. 
The world leading technology in the Engage Platform has helped large organisations handle this switch in customer behaviour.  By launching the Engage Platform in the the new editions; Chat and Chat+ we are offering our technology to a broader market. This will help up and coming retailers, companies with smaller customer service organisations etc. to service their customers in the same customer friendly and efficient way that Vergic Engage has helped larger organisations to do.
We hope you like our efforts!