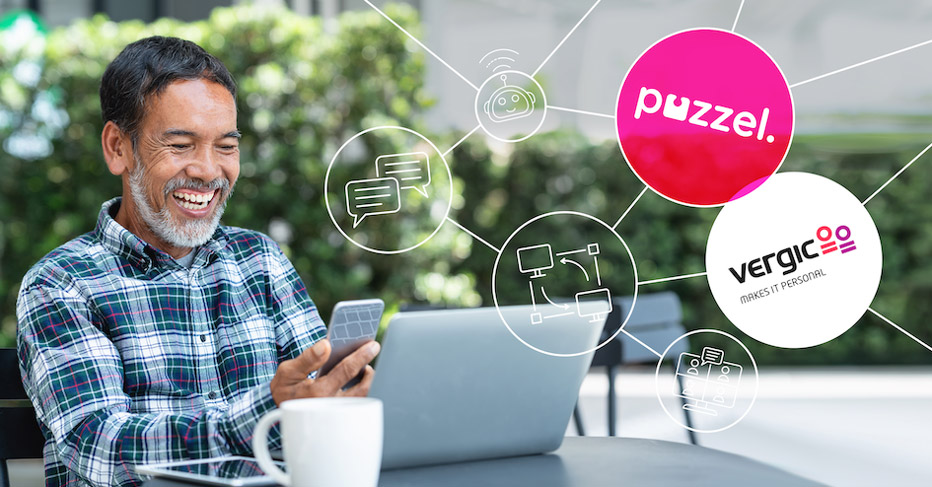 JOINT PRESS RELEASE
Puzzel acquires Swedish digital engagement company Vergic
Stockholm, October 5, 2021: Puzzel, the leading European Contact Centre as a Service (CCaaS) provider, has today announced the acquisition of Swedish digital engagement company Vergic. Bringing Vergic's digital-first solutions into the Puzzel Customer Service Platform marks another milestone in the company's vision to power the future of commerce with smart experiences.
Link to Swedish press release   |   Link to press release at puzzel.com
---
Headquartered in Malmö and with offices in Stockholm, Vergic's technology enables companies to engage with online customers at the right moment and via the most efficient channel, through AI-supported messaging and collaboration tools.
The company's solutions include advanced chatbots, site messaging, live chat, engagement rules, video and co-browsing. Customers who use Vergic have seen an increase in total website conversion from 5% to 28%.
Vergic's customers include household name brands across Scandinavia and Europe, including Citizens Watch, financial services company Storebrand, e-commerce and retailer Clas Ohlson, Swedish government agency Försäkringskassan, and telco giant Telenor.
Puzzel CEO Frederic Laziou says the acquisition demonstrates Puzzel's commitment to bringing continuous innovation to its customers.
"Today, all organisations and brands know they have to provide digital customer service. But we're now seeing a major evolution in what customer service means to people, both online, in stores and physical locations. Customers are demanding smarter experiences and we believe that businesses that do not take steps to automate, innovate, and provide empathy when it really matters will be left behind," says Frederic Laziou.
Puzzel will integrate Vergic's site messaging, chatbot, engagement rule engine, video and co-browsing capabilities into its award-winning cloud Customer Service Platform.
---
NOTE: Vergic will still be developed, maintained and available as a stand-alone- or OEM product trough partners for companies and organisations with a 'digital first' need. 
---
Vergic is Puzzel's third acquisition in just three years. The company purchased the ticketing platform Logicalware in December 2019 and workforce management solution U-WFM in April last year, expanding its omnichannel cloud contact centre into a fully integrated customer service solution.
Commenting on the acquisition, Alexander Lunde, CEO at Vergic said:
"We're delighted to become part of the fast-growing and innovative team at Puzzel. Our technologies and ethos complement each other perfectly, with its Scandinavian heritage and our combined goal to deliver innovative customer experiences. We look forward to working closely together as we build an industry-leading end-to-end customer-centric platform."
About Puzzel
Puzzel is the leading European Contact Centre as a Service (CCaaS) provider. Our award-winning Customer Service Platform consists of three fully integrated, cloud-based solutions, including an omnichannel and AI-enabled Contact Centre, advanced Ticketing and Workforce Management, which are easy to use, quick to set-up and scalable for contact centres of all sizes. Customers can also customise the platform with dozens of third-party integrations available through our Puzzel Marketplace.
Puzzel was recognised as a Challenger in the 2019 Gartner Magic Quadrant report for Contact Centre as a Service in Western Europe and ranked in the top three European CCaaS providers for 2020 by Frost & Sullivan. Based in Norway, and with offices across Scandinavia, Europe, and the UK, we work with more than 1,000 customers across 40 different countries, helping businesses to achieve success beyond voice, connected experiences and empowered employees. For more information, please visit www.puzzel.com.
More information
All Vergic customers will be contacted shortly. Don't hesitate to contact us at Vergic for more information.