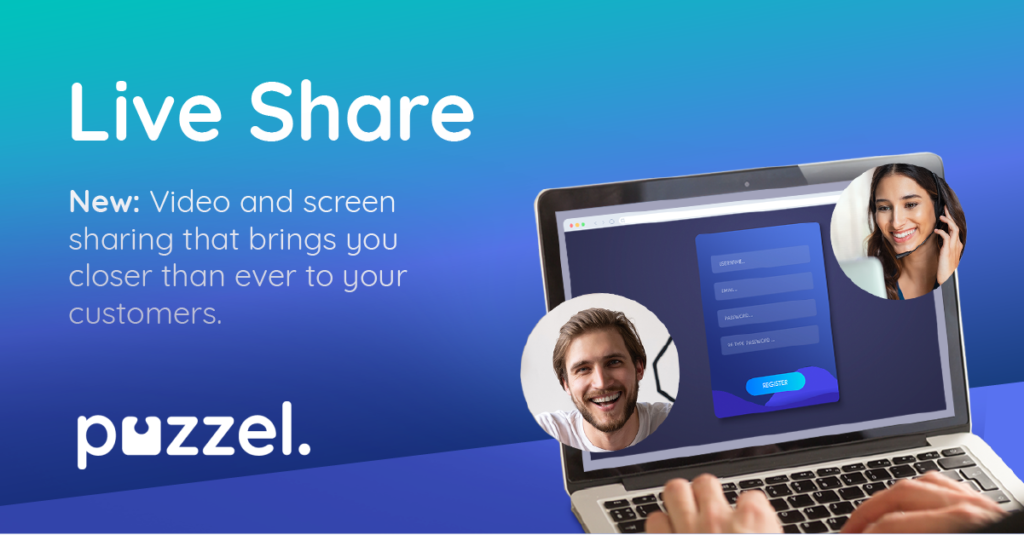 Puzzel drives micro moments that matter with a human touch from Vergic
In a time when the digital meeting has become more and more essential to a successful customer service, the need for effective technology has also increased. Leading contact center platform Puzzel has therefore opted to integrate elements of Vergic's technology into its platform for better digital customer service.
Meeting customers digitally creates opportunities, but what kind of tools you need depends on the individual case. For example, you can offer your customers an online chat function for quick and easy dialogue, but as things become more complex, more advanced functions are needed if customer service is to remain effective. Here is where Vergic's co-browsing and video chat functions come into play.
Learn more about Puzzle Live Share
Co-browsing and Video chat are effective in more complicated situations
By adding Vergic's co-browsing and video chat functions as contact channels, Puzzel's users are now better equipped to handle complex customer matters. A simple online chat can escalate into a video chat in situations where there is a need to use sound and images to communicate.
In addition, the co-browsing function allows you to see and navigate with customers online while also being able to share documents and videos – features that reduce handling time and give a higher conversion rate.
A customer who calls customer service can be guided online with the use of 'Phone to Digital', which is extremely useful, as around 60% of all customers who call begin their customer journey online.z
What does this mean for Vergic?
"The fact that Puzzel has integrated our technology into its platform is recognition that we're doing things right. We have invested a lot of resources into ensuring that our solution can offer important functions to our partners in an increasingly digital first-oriented contact center world."
/Alexander Lunde, CEO Vergic
---
Do you want to know more