Klarna strengthens customer service with Vergic solution
Malmö, 4 Mars 2015. Klarna and Vergic signed an agreement to implement Vergic's solution within Karna's customer service operation. Initially, the solution will be implemented on Klarna's Swedish web site. 
Klarna is Europe's leading payment provider, which simplifies online buying. Klarna serves 35 million consumers and works with 50,000 merchants on 18 markets. To strengthen its customer service and facilitate ease-of-use for its Swedish users, Klarna decided to implement Vergic's chat and co-browsing solutions.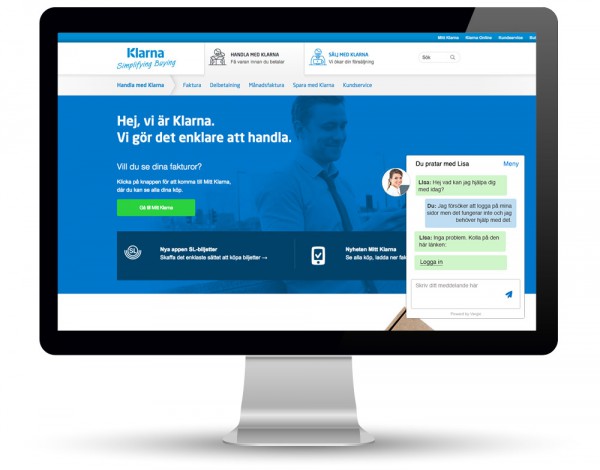 Starting in early March, consumers, who use Klarna, can log into Klarna's web site from which they are proactively offered personalized help related to their accounts. For example, consumers can receive information about their current account balances or get help with postponing payment dates. The solution includes co-browsing, so Klarna's customer service team can view, help, and guide consumers via various processes that are available on Klarna's web site
Klarna's secure, easy access system ensures that once logged in, consumers need not log in again to get personalized help with their accounts. The Vergic solution also increase the efficiency as customer service representatives can handle up to five parallel dialogues.
Vergic's chat and co-browsing solutions are part of the Vergic Engage Platform, which is a cloud-based software platform that helps companies improve customer relationships and increase sales. Vergic technology acts as an interface for site owners to engage directly, personally, and in real-time with each consumer—using agent-assisted functions, such as chat and co-browsing, as well as automated functions.
"Our platform helps companies in various ways, for example, by building consumer involvement and loyalty or by calculating conversion rates," says Alex Lunde, CEO, Vergic. "Klarna sought simplicity, and our solution will enable fast, easy, accurate customer service that increases overall customer experience."
For more information, please contact:
Alexander Lunde, CEO & founder, cell: +46 761-36 68 33; alex@vergic.com