Elisa launches a chatbot with Kwork technology and Vergic BOT interface
Last week Elisa, Finland's biggest telecom company for consumers, went live with their first customer service chatbot. The purpose is to let the chatbot help with some of the most common cases so that human agents can focus on more complex processes.
Elisa is taking the first step to automate dialogs by combining Kwork chatbot technology and the 'Vergic BOT framework'. By having both chatbot and human agents in the same platform, Elisa avoids redundant solutions and costs and at the same time creates a better customer journey.
In the first phase, the Elisa's chatbot focuses on solving login issues, change due date on unpaid invoices and answer the top 30 FAQs.
A winning setup to handle chatbot and humans
A chatbot solution roughly consists of two parts. First, there are the cognitive services to be able to understand and process input from the customer. In Elisa's case, this is handled by Kwork AI/chatbot services.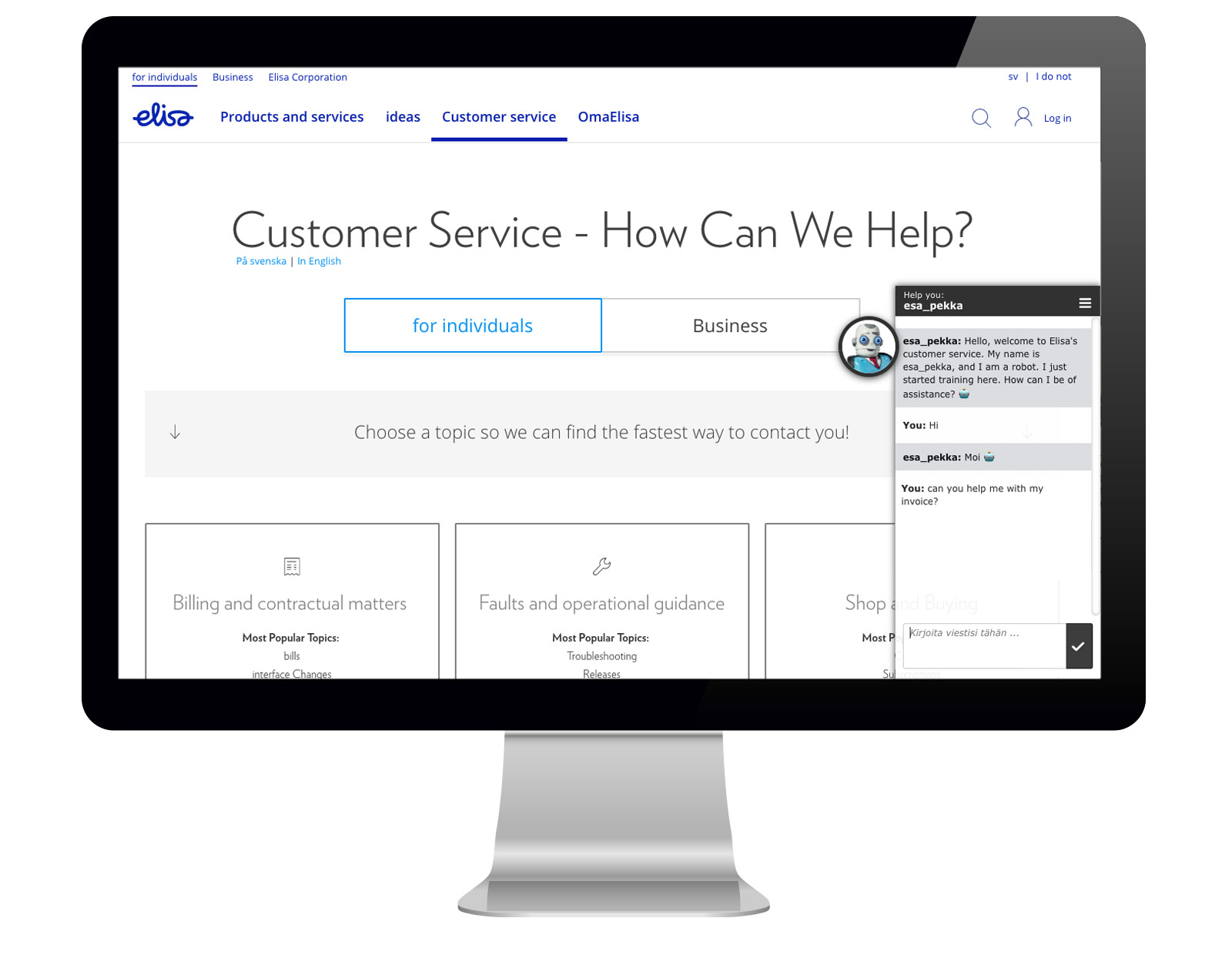 The second part is to have an Engagement Platform that monitors the visitors' behavior and controls 'when and how' to interact with the customers on the web page. The platform also needs to keep track of the different states in the dialog and statistics and finally present chatbot in a graphical interface that works on all hardware devices. This part is done with the Vergic BOT framework.
Chatbot's and human agents working 'side by side' in the same solution
Vergic Engage also manages the agents' availability and transfers customers between chatbot and human service agents. A dialog can start with chatbot but escalate to a human agent and vice versa if needed.
Another benefit of letting the chatbot work through the 'Vergic BOT framework' is that the chatbot also gets access to the same advanced chat tools as a human agent.
The chatbot can co-browse the customer, highlight elements on the web page and much more.
This means that a chatbot working through Vergic can perform more complex assistance and automation than any other competitor of Vergic.
---
Do you want to know more?
Contact us