3 is a world-leading mobile operator offering both businesses and individuals mobile telephony, mobile broadband and a range of products and services in both 3G and 4G networks. In Sweden, 3 has seen strong growth in sales to online customers. Now 3 Sweden wants to further increase sales generated at tre.se. They've selected the Vergic Engage Platform to ensure its online customers can enjoy the same fast, effective and personal service that physical, brick-and-mortar store customers receive.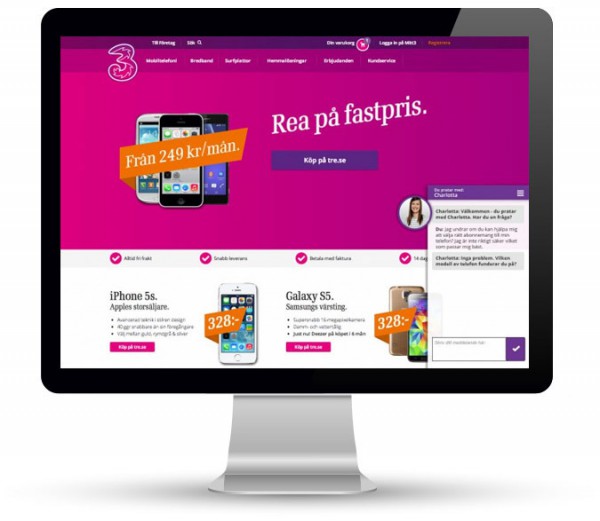 In implementing Vergic technology on their site, 3 Sweden aims to better enable its online sales staff to provide and secure great online shopping experiences. Online sales is the key performance parameter that Vergic and 3 Sweden will use to track success.
"We are extremely excited that 3 Sweden has chosen us to help them better meet, engage with and serve their customers in the digital world," says Alex Lunde, CEO and founder of Vergic. "We will work hard to ensure 3 Sweden realizes a smooth deployment and gains immediate improvements."
The Vergic Engage Platform replaces a tool 3 Sweden had used mainly for online lead generation of its site visitors. In addition to this, 3 Sweden staff will now also be able to share information, resolve issues and collaborate with customers — online and in real-time. This means more personal and prompt service, which benefits both customers and employees.
Vergic technology acts as an interface for site owners to engage directly, personally and in real-time with each individual customer using agent-assisted functions like chat and co-browsing as well as automated functions. Deployed as a web browser application, adding Vergic technology is as simple as it is powerful.
About 3 Sweden
3 Sweden was started in December 2000 with the vision of creating an entirely new platform for mobile communications. Hong Kong-based Hutchison Whampoa and Swedish Investor AB are the owners of 3 Sweden.
About Vergic
Vergic customer engagement technology powers more personal, relevant, enjoyable and efficient online customer support and shopping experiences — in real-time, on any device. The Nordic region's leading customer engagement provider, our Vergic Engage Platform is intelligent cloud-based software that turns any web page into an interface for engagement using chat, text, video or audio. Vergic is privately owned, headquartered in Malmö and has over 15 years experience conducting business and building relationships online. Vergic makes IT personal.
For more information, please contact:
Alex Lunde, CEO & Founder, Vergic
e-mail: alex@vergic.com
Mobile: +46(0)761366833