Robotics process automation (RPA)
It's easy to just think of a BOT within the terms of a 'auto text chat' but the real power of a BOT is when introducing automation tools in the dialog. 
Examples RPA services:
Check-in assistance
Product delivery status
A complete BOT assistant shopping experience with check-out and payment within the chat
The news is that Vergic Engage makes it easy to integrate already existing services from your web page into your BOT chat.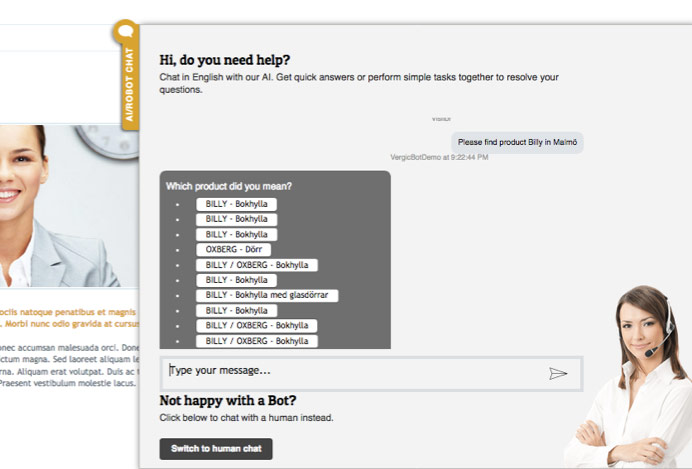 Example where you inside a BOT reuse a exiting functionality used on the webpage by calling a warehouse status service and displaying the result in a banner BOT integration
Vergic Engage as an alternative to sky rocketing AI/BOT budgets
Services apps (mention above) inside an AI/BOT solution, greatly increases the complexity of the implementation project, as well as the costs related to this. In recent cases we have meet customers that spent 20-45 Million Euros on an AI/BOT implementation project. And still it does not work perfect.
Why does the cost explode?
The AI/BOT solution needs to access back-end services
The AI/BOT service needs authentication and authorization integrations
The AI/BOT need to be able to validate a visitor session
But often these services are already in place on our customers web pages and web processes. Vergic Engage offers a solution where you can reuse these existing services in the BOT.
This can reduce the implementation costs to a fraction of the 20-45 M EUR we often have seen needed when re-implementing web services inside small BOT windows. Often with a better user experience!
Let the BOT use the Vergic Co-browsing feature to assist customers
Vergic Engage also offers a solution where you can enable AI/BOTs to use our Co-browse API and help the customer by navigating to existing web pages and services.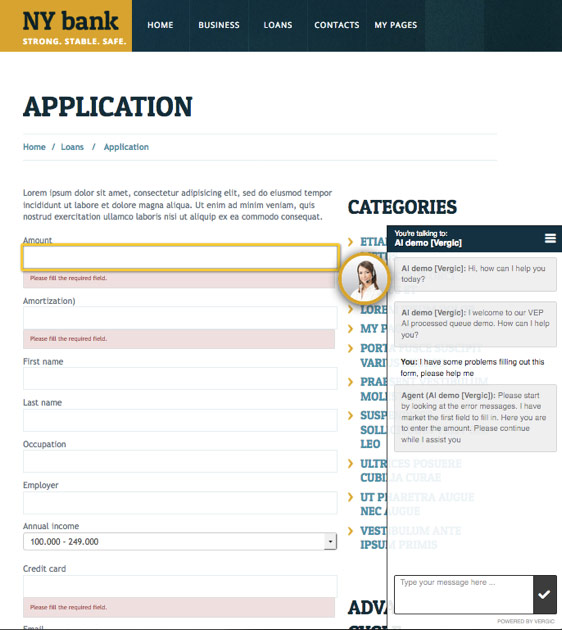 Vergic Engage Co-browse API used by an AI service to guide a visitor filling out and existing web process
Take advantage of Vergic built in security when engaging a BOT
Vergic Engage also has built in support for web security session, eliminating the need for expensive authentication and authorization projects