Vergic delivers an easy to integrate Digital Engagement Platform, allowing brands & organisations to engage with customers trough AI/BOT supported messaging and collaboration tools.
Introducing: Vergic Automation Tools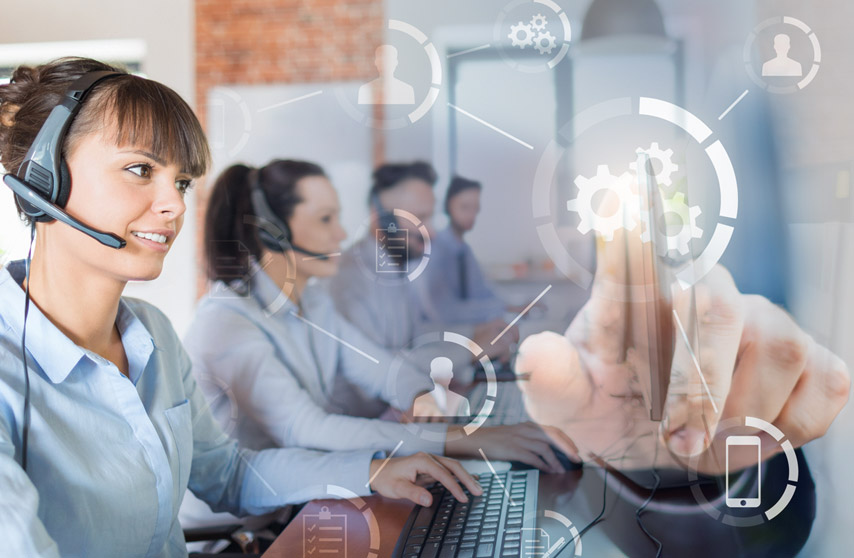 Automate dialogs and workflows
Vergic Automation Tools is a set of components that will increase the quality and efficiency of your service agents and reduce the effort for your customers.
It's like your agents had a virtual assistant by their side. Vergic Automation Tools together with complementary APIs will give you an easy way to get even more functionality out of the Vergic Engage platform.
Highlighted Platform Functionality
Customer service

Our technology increases agent efficiency, boosts agent sales, improves agent satisfaction and streamlines costs. All whilst enabling world-class customer service. Exciting opportunities await your customer service and care teams.

Marketing

It's about engaging with customers, not targeting audiences. Help customers resolve issues. Feel inspired. Find information. It's a simple add-on to your existing website, too. Exceed customer expectations and marketing goals.

Sales

The era of online sales engagement is about making timely, relevant offers based on insights into customer interests, behavior and preferences. You identify high-value customers and make personal and relevant offers — all in real time.

Public sector

The Internet is helping the public sector to move faster while raising expectations of citizens for better support. We help the public sector deliver modern, high-value online services. And be more efficient, cost-effective and accountable

Download our latest white paper

While online sales is a crucial metric today, too many businesses are losing sales opportunities. Boosting sales requires more than leading prospective and existing customers to unstaffed or undermanned sites and webshops – or where software automation is the only customer contact. This white paper serves as a reference to learn how customer engagement and its real-time, personal interaction boosts online sales. Review real data, get clear tactics. Discover how customer engagement technology boosts online sales.

What's inside:

Understanding online customer engagement for sales conversion: what, how and why
A step-by-step methodology to boost online sales
Results e-retailers have achieved using Vergic Engage Platform
A checklist for evaluating customer engagement technology
30 pages

The challenge: Today's online technology landscape is flooded with companies offering one-off solutions for lead generation, sales conversion and customer service.

The result: Site owners are burdened with managing and integrating multiple systems to effectively meet their online marketing and customer service needs. This creates inefficiencies that result in lower ROI and lost revenue opportunities.

The Vergic Engage Platform allows site owners and customer service agents to engage with individual customers, prospects or visitors online and in real-time. Sites identify prospective or existing customers and build profiling data based on an individual's on-site behavior and interests, then use algorithm-based customer engagement solutions for lead/sales conversion as well as customer support. An open technology cloud-based platform, the Vergic Engage platform easily integrates customer on-site behavioral data with those from CRM, BI, ERP, ICT, CMS or other other third-party system.

Connect personally with each visitor. In real time. Online.

Our platform and the customer journey

A solution for every phase of the customer life cycle. Using the Vergic Engage Platform enables you to improve lead generation, sales conversion and customer service through real-time, online customer engagement via chat, targeted offers, co-browsing, video and more.

Learn more

Valuable customer experiences are the very heart of what our engage platform offers in term of powering more personal, relevant, enjoyable and efficient online customer support and shopping experiences – every minute, everyday! Experiences that are built around how your customer lifecycle appears in your online world.

How your business benefits

Increase customer satisfaction by 20%

As most companies lose 50% of their customers every five years, retaining loyal customers is important. Not only is it 8-10 times more costly to sell to a prospective customer than to an existing one. But the best way to grow a business is to sell more to your existing customers. Loyal customers are more willing to purchase more from the same brand, pay premium prices, refer your brand to others and they are less expensive to serve. Higher levels of employee engagement correlates to higher levels of customer satisfaction. Vergic offers a rich multi-channel customer engagement tool.

Boost sales
conversion by 50-100%

Using insights gained from a customer's on-site behavioral data, agents can quickly present the right products or services to the right individual in real time. As well, identify and act upon upsell and cross-sell opportunities. With the platforms intuitive and easy-to-use administrator interface, your agents engage customers across your online channels (e.g., website, mobile, tablet etc.) based on actual customer behavior—no technical expertise required. It all means words like "sales" and "value creation" are more accurate than when describing your "call" and centers.

Customer issue
resolution 50% faster

Customer engagement means significantly decreasing the amount of effort and time required to help customers and prospects resolve queries, issues, concerns or problems. When comparing average issue resolution time (or case handle times) to traditional phone-based interactions, agents using basic chat functionality are not only able to handle and resolve multiple customers at the same time. Even if an agent takes only two simultaneous chat engagements, this would effectively cut issue resolution times in half when compared to phone. Furthermore, agents are able to resolve more complex issues in a highly efficient manner. An example for the chat channel is the relative ease of resolving complex text-based information (e.g.: long instructions, complex forms, detailed html code, URLs, etc.).

Reduce abandonment
rates by a factor of five.

Abandonment rates reflect the percentage of customers who choose to abandon or cancel their online purchase, interaction and/or support activity. Compared to dissatisfied site visitors, people who are satisfied with their online experiences are 72% more likely to purchase online, 67% will repurchase from the same retailer in the future and 69% more likely to recommend the retailer to others. Meanwhile, up to 96% of the visitors (customers or prospects) who abandon a site will never return to it. The main reason of dissatisfaction on the web? Information irrelevancy is the cause cited most often from a study that tracked the behaviour of several million Internet users on more than 5,098 websites across the globe between July 2012 to July 2013.