Vergic solutions
Vergic Engage Platform allows businesses and organizations to act on site visitors behaviour, value and journey and then engage in real time and seamlessly switch between Live Chat, Chatbots, Video, Voip or Phone. The integrated co-browsing functionality lets you leverage on both existing web content, web processes as well as other specifically tailored content creating a highly personalised customer experience. 
Our solution comes in three versions, Basic, Business and Enterprise. The three versions are tailored to give any organisation with the need to meet and engage with customers and visitors on-line the opportunity to use Vergic Engage, no matter of size or type of business.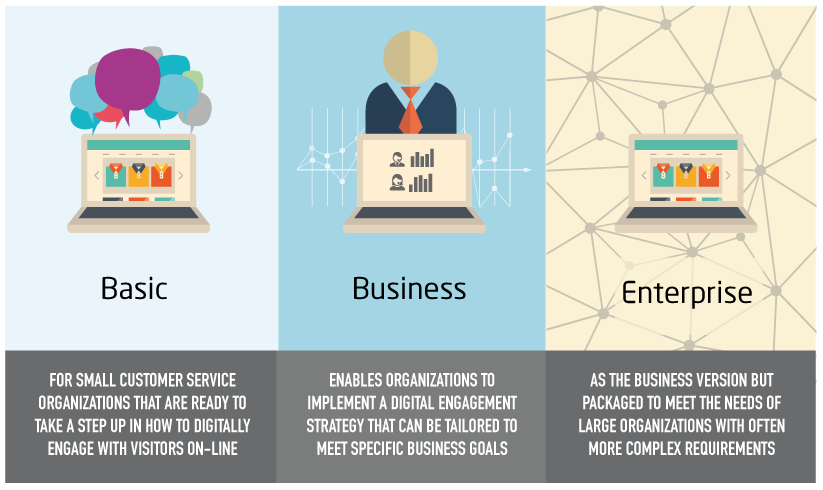 Vergic Engage Basic is a scaled down but still feature rich version of Vergic Engage Business and Enterprise. The Business and Enterprise versions basically offers the same functionality but with the Business version in a package tailored for the smaller organisations. The Enterprise version is tailored for larger organisations with a multi channel approach to sales support and customer service.
All versions of Vergic Engage are available from our state of the art datacenters
EU and US Public Cloud Services are available
Dedicated Hosting (own Private Cloud) and on-premise solutions are available for clients with special requirements
Vergic Standard and Dedicated Cloud Services offer hosting inside EU/Sweden and are compliant with the Swedish PUL legislation (will also be compliant with new 2018 GDPR regulation)