Successful online retailer boosts customer service and conversion with Vergic Engage
Granngården is a large online retailer in Scandinavia who offers home associated products, services and lots of inspiration to more than 1.2 million members and customers. To handle customer and web traffic growth Granngården turned to our partner Enghouse Interactive, to implement the Vergic Engage Platform.

Interview with Chérie Dahlin
Customer Service Manager at Granngården

---

Company name: Granngården
Industry: Retail
Location: 112 stores around in Sweden plus e-commerce at granngarden.se
Employees: 550
Revenue: 1,8 billion/year (SEK)
Solution: Vergic Engage Platform
Partner: Enghouse Interactive
Web: www.granngarden.se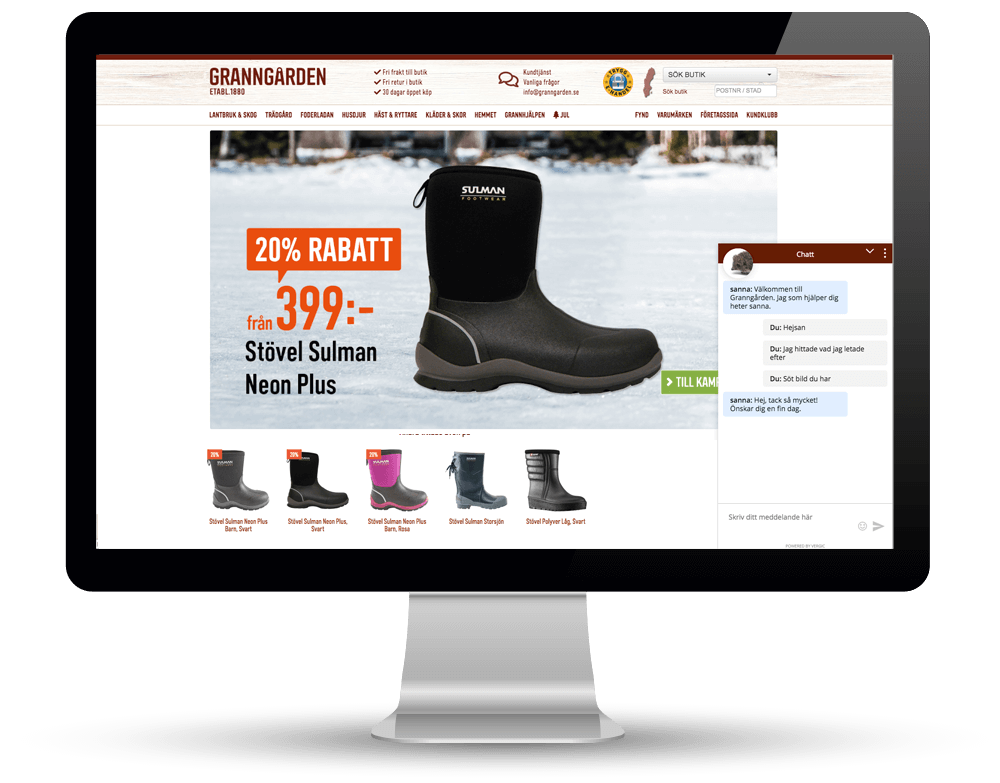 What was your challenges?
We experienced a sharp increase in online traffic in 2018 after introduction of a new e-commerce order delivery model, with pick-up in stores that become extremely popular. In order to be able to assist customers more quickly, and effectively reduce response time, digital engagement with Proactive Chat was introduced as an additional channel during Q3' 2018.
How do you use Vergic Engage?
We want to offer a better customer experience and improve the potential business by interacting more successfully with online visitors, especially in the check-out process to avoid drop-outs. We also offer chat as prioritized channel on contact pages to deflect time consuming Emails.
The result
26% conversion rate when proactive help was offered
40% email deflection
also:
Cost savings by increased 'First Contact Resolution'
Higher customer satisfaction by shorter response time
---
When offering proactive help in the checkout the conversion rate increased to impressive 26%. This is a mayor difference compared to when help wasn't offered. Assisting the visitor in the right moment helped to increase this important KPI.
Positive development of response times and fewer drop-outs was recorded for the entire period. All this has created increased confidence in Proactive Chat. Customers preferer the chat channel because of its efficiency and high first contact resolution.
We can now provide accurate personal service at all levels, especially to our 1.2 million loyalty members who choose to use this channel.
An analysis was also made from March 1st to October 31st to calculate Email deflection. By replacing Email option with Chat (when agents where avalible), Granngården deflected 40% of the incoming mail.
Vergic started to work systematically with us at Granngården in February and there you clearly see in our statistics what an improvement it has been.
---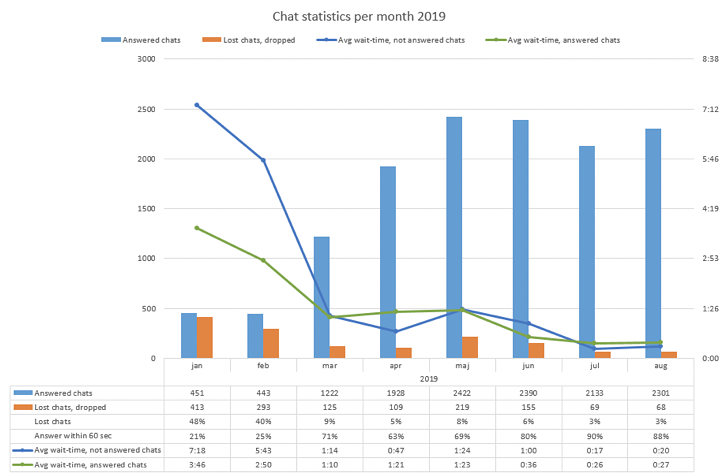 Engagement analysis Granngården August 2019
---
Do you want a demo?
Contact us